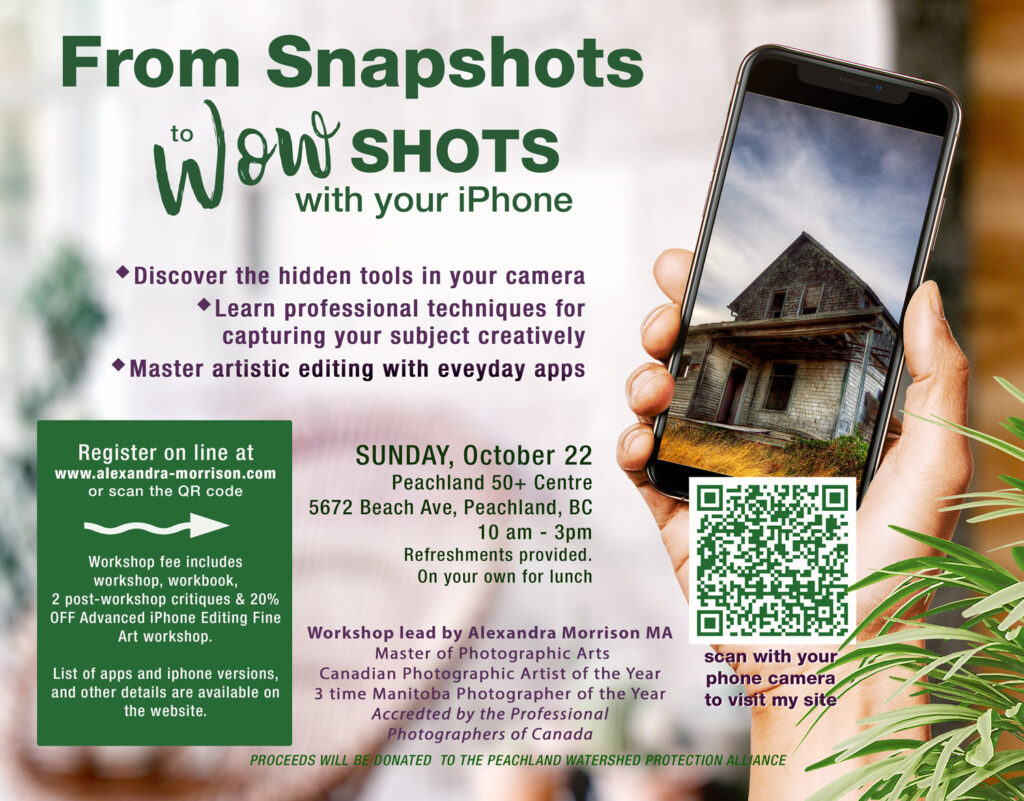 .
Make the Kinds of Images you've always wanted, with your iphone
I love the convenience of having a camera with me at all times. And I enjoy the easy editing and experimentation possibilities of iPhones. In 2012 I was awarded Manitoba Photographic Artist of the Year by the Professional Photographers of Canada. That was pretty wild – but what was even more crazy was that 3 out of the 4 images I submitted to the competition were made on my iPhone.
I had many questions from folks, about how I made the winning photos. So later that year I developed a workshop to show people how to do it. It's easy to be creative when you don't need to spend years figuring how to use your tools.
This workshop has definitely evolved since then. iphone cameras have grown into powerful tools for photographers and artists, but not all of the features are easy to find, and some are just confusing if you don't know what they are actually for! And just because you might know how it "works", there are still a few other skills you need. After all just because I know how to use a hammer, it doesn't mean I know how to build a house!
You need to know all the photographic and artistic tools your iphone can provide.
You need to know how to how to make your images stand out from all the others – how to make them different and unique.
You need to know how to edit it to enhance your vision; and "artify" it if you want, to get really creative.
These are among the tricks we will learn at this workshop.
So register today and join us on October 22, 2023, 10:00 am at the Peachland 50+ Centre, 5672 Beach ave, in Peachland BC for this fun and inspirational workshop.
Read my Global TV interview about iPhone photography!
what you will need
An iPhone, 12 Pro or newer. ***
You can definitely enjoy this workshop and learn all you need to make WOW Shots with older phones, but you won't have some of the newer camera features. You will still benefit greatly from the workshop, especially the LAST two points above – how to take WOW shots, and how to edit like a pro. Demonstrations will be done using iPhone 12 Pro.
Your charger – you don't want to run out of juice!
The workshop notes are provided in a handout, but you might want to bring a note book to make your own notes.
We will be spending some time outdoors – so dress for the weather.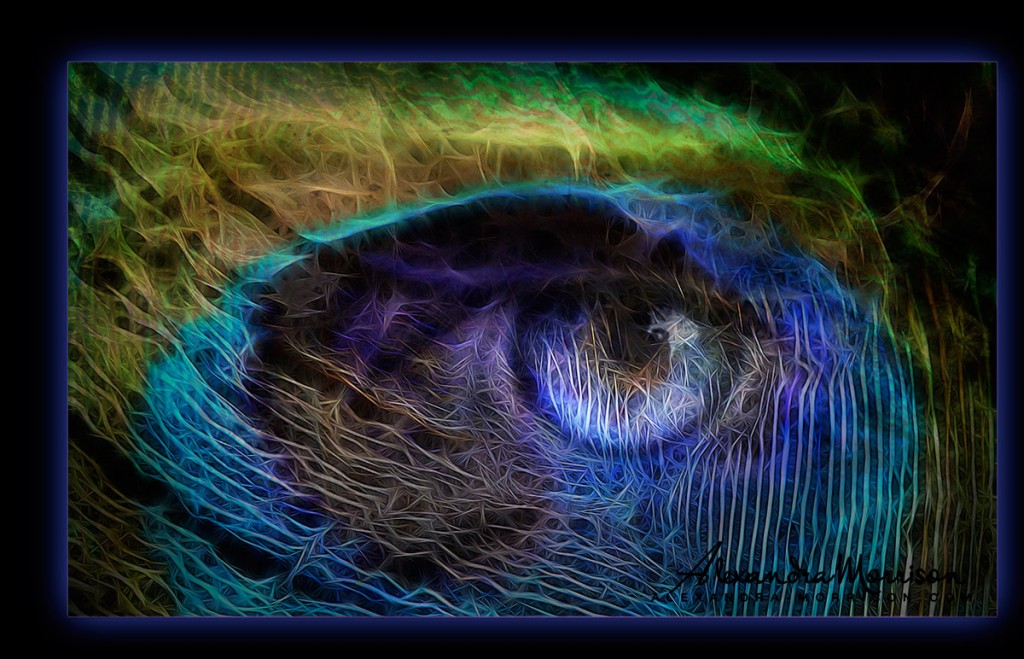 100% made with an iPhone, back in 2012!
The Apps
Please make sure you have these apps installed on your phone before coming to the workshop. They are all available on the App store and will be using the free versions:
SNAPSEED
MEXTURES
LENS DISTORTIONS – LD Premium Content Creator
DISTRESSED FX
Tangled FX
Workshop fee is $89.00. You can register below, or if you are local to Peachland, you can register at any Peachland Watershed Protection Alliance event, while spaces last.
REGISTER TODAY – ATTENDANCE IS LIMITED TO 14 PARTICIPANTS.
Refreshments, coffee, tea, and snacks are provided. We're on our own for lunch – there is a good variety of small independent restaurants in Peachland, and lots of beautiful space to enjoy a bag lunch picnic.
Every cent of your workshop fee is being donated to the Peachland Watershed Protection Alliance to further their work to protect Peachland's drinking water.
This workshop is designed for adults. If there is enough interest in a youth or kid's workshop let's talk!
***This will be a frustrating workshop for Android users – mostly because the range of apps will be different and to be honest, I know nothing about them so my ability to help will be very limited. But you are still welcome to attend for all the other fun stuff 🙂